Of particular concern was a pair of special bonuses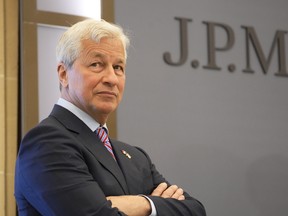 Article content
A JPMorgan Chase & Co. executive-pay proposal won support from just 31 per cent of shareholders, marking an unusual rebuke for Jamie Dimon, the most prominent executive in global finance.
Article content
JPMorgan, the biggest U.S. bank, announced the tally at its annual meeting Tuesday, noting that the figure is preliminary. The resolution was advisory, meaning that the vote is non-binding, but shareholders tend to overwhelmingly back company proposals.
The results follow recommendations from key proxy advisers Glass, Lewis & Co. and Institutional Shareholder Services Inc. that investors reject pay packages for Dimon, JPMorgan's chairman and chief executive officer, and other company leaders. Of particular concern was a pair of special bonuses for Dimon and President and Chief Operating Officer Daniel Pinto to ensure they stick around.
The board of New York-based JPMorgan takes the shareholder feedback "very seriously" and will continue to engage with investors on pay, according to company spokesperson Joe Evangelisti. Though the proposal is non-binding, shareholder rejections of such resolutions can lead to changes. Last year, rival Goldman Sachs Group Inc. reversed its stance on disclosing the effects of forced arbitration after a shareholder proposal the bank had opposed was backed by almost half of investors.
Article content
Glass Lewis, in opposing the JPMorgan executive-pay resolution, noted that US$52.6 million in option awards granted to Dimon, 66, were "nearly double the size of his regular equity grant for 2021" and represented much of his US$84.4 million in annual pay. The firm also criticized the US$53.3 million in total compensation for Pinto, 59, which included almost US$27.9 million in option awards.
"The board said it intended it to be a one-off award reflecting exemplary leadership," Evangelisti said after the vote. "The award will not vest for five years, and Dimon would not be allowed to sell any vested shares for an additional five years. The special award was extremely rare — the first in more than a decade for Mr. Dimon — and it reflected exemplary leadership and additional incentive for a successful leadership transition."
Article content
Pinto served as acting co-CEO while Dimon was sidelined by emergency heart surgery just as the coronavirus pandemic roiled markets. Since then, Pinto has moved to New York from London to assume the roles of sole president and COO, titles he shared with Gordon Smith before Smith's retirement.
In response to a shareholder question Tuesday, Dimon said he feels "great" following the 2020 surgery. Whenever asked how long he will remain CEO, he's long joked that he'll stay for five more years.
Shares of JPMorgan have slumped 23 per cent this year, more than the 13 per cent decline in the S&P 500 Financials Index. They rose 2.5 per cent to US$121.21 at 11:46 a.m. in New York.
Bloomberg.com
_____________________________________________________________
If you like this story sign up for FP Finance Newsletter.

_____________________________________________________________