Are you wondering how to start a lip gloss business? Starting a business is both an exciting and challenging endeavor that requires a lot of planning and strategy. Here are some tips to get you started!
Many of us dream of owning our own business. No matter what your interests, becoming a small business owner can be a fun and rewarding way to explore your passions. Regardless of the business type, your ultimate goal is to create value and exchange what you produce for cash.
Today, the cosmetics industry has grown rapidly with different product lines, one of which is lip glosses. In this article, we review the steps on how to start a lip gloss business.
Is It Profitable to Sell Lip Gloss?
The cosmetics industry is very large, with different product niches under it, such as the lip care industry. Lip care products are numerous, ranging from balm to gloss to lipstick and more, to mention a few. And this product niche is growing by the day as demand increases.
Today, people are looking for products to improve the appearance of their lips because they know that attractive lips improve their looks and confidence. Even those who have chapped lips, dry lips, or hyperpigmentation are always in need of lip gloss products. This demand has created business opportunities for many, and there's still room to grow. So, marketing lip gloss is highly profitable with an ever-increasing market.
Besides increasing demand, a lip gloss business has a very low investment cost. You can start your business with $100 or more depending on the labeling, ingredient quality, and packaging materials you use. Furthermore, the production cost is very low, so you get to make more profit off each unit you sell.
The Lip Gloss Industry
The lip gloss industry reached a market value of $820 million in 2020, according to Grandview Research and is projected to hit $1.17 billion by the year 2025. So, you can see that the industry is on an upward trajectory.
Lip gloss business costs
You will most likely spend much of your budget in acquiring the following:
Tubes/bottles (A few hundred for a start)
Stickers
Ingredients
Custom packaging
With these items in place, you can start making your lip gloss yourself before you market to buyers online.
How to Start a Lip Gloss Business
Now let us look at the steps you need to take to start a lip gloss business from scratch.
1. Do market research
Like with all other businesses, you need to do your market research. Starting the business without researching the industry well is a recipe for disaster. Consider the market niche you want to serve and research the products currently available to that niche.
Are you going to sell only the lip gloss alone, or do you intend to market other products as well? These are questions you have to answer when doing your research.
2. Develop your lip gloss formula
At this stage, you should already have a fair idea about what the market wants and what other established competitors are offering. Now is the time to come up with your own formula.
When creating your lip gloss formula, you will likely make mistakes, but that is fine. No successful business got it right the first time, so don't be afraid to make mistakes. Just make sure you learn from them!
Creating and perfecting your formula is vital because you don't want to sell an unappealing product. Fine-tune things like the appearance, texture, and aroma, and make sure you can produce tubes with consistent quality.
It is only after you are convinced that you have a winning product and you have sample-tested your product that you should release it to the market.
3. Pick a good business name
Plenty of lip gloss brands out there have a catchy business name, so yours should have one too. The name you pick is important, because that is what people will see before they even decide to try your product. 
The name you pick should have a strong connection with your product. Also, pick a very good logo that will stand out. For the logo, you can have a graphic designer create different options; then, you can pick the one that suits your brand best.
If you plan to have a business website, make sure you use an original name. This way, your website and your business name can be one and the same. Check website domain names on GoDaddy to make sure the one you want isn't taken.
4. Write a business plan
Every serious entrepreneur writes down a business plan. When writing your plan, determine your goals and how much time you want to dedicate to each goal.
Your plan should also have a detailed financial cost attached to each goal, so you can anticipate your expenses. A business plan prevents you from relying on guesswork and over- or under-budgeting.
5. Get familiar with the Legal requirements
Most businesses must fulfill various legal requirements in order to operate. Making and selling lip gloss is no different. In addition to required certifications and licenses, you'll want to know about and comply with local and federal guidelines when considering how to start a lip gloss business legally.
In the United States, cosmetics are regulated by the FDA. Be sure to follow their guidelines as well as any local state or city requirements for your area. Depending on where you live, a business permit may be required, as well as additional tax documentation if you have employees other than yourself.
6. Draw up a marketing plan
How do you intend to market your lip gloss line? Do you plan to do it in person or online? If you are marketing online, do you plan to sell directly to the consumer or through online stores or a hybrid strategy of both? Will you sell on your website and also on a marketplace like Amazon, eBay, or Etsy?
What about selling in person? Are you going to sell locally through a retail location or farmer's market?
To draw up a perfect marketing plan, you need to identify who your target customers are and where you can find them. If you know where they are and how you can reach them, making a sale will be much easier.
Now that you have a blueprint for how to start a lip gloss business, don't miss these additional tips on starting a business here.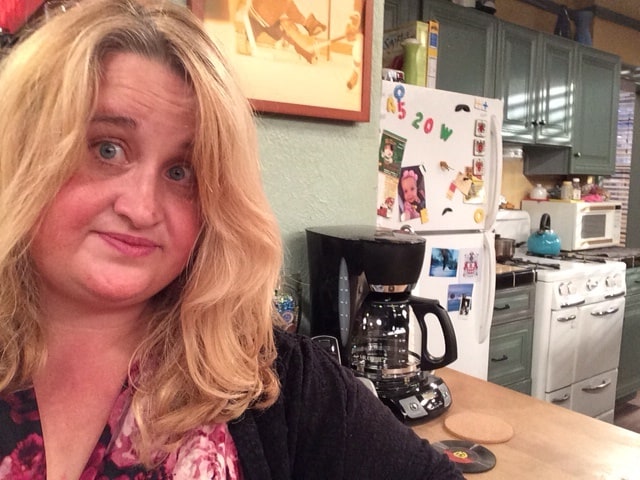 Kim Ritter is a frugal living expert, blogger and mom of two from small-town Iowa. What began as an effort to help her family save a few dollars a month has now transformed into a full-time passion to help other parents money. Visit her online at twokidsandacoupon.com and follow her on Twitter at @2kidsandacoupon for more ways your family can have fun on a budget.