Have you wondered whether DoorDash or Instacart pay more money as a part-time gig? Here's what you need to know.
Does DoorDash or Instacart Pay More?
Driving for DoorDash and Instacart can be a great way to earn extra income on a flexible schedule.
So how do you choose which on-demand food delivery service is best for you?
If you are looking to make money doing delivery orders, here is some important information to keep in mind.
Delivering for DoorDash

A popular food delivery service for chain, fast food and local restaurants in both the United States and Canada, DoorDash is available in over 4000 cities.
Known as Dashers, DoorDash delivery drivers can use a car, bike or other vehicle of choice to deliver food orders.
Offering a flexible schedule, Dashers can both schedule work a week in advance or check the app regularly for delivery jobs available.
What are the Benefits of Delivering for DoorDash?
DoorDash offers their drivers lots of flexibility and the ability to make their own schedule.
What are the Requirements to Drive for DoorDash?
DoorDash requires that their drivers are at least 18 years of age, have two years or more of driving experience, a clean driving record, insurance in your name and be able to pass a criminal background check.
A clean criminal record is required and applicants with a past history of theft, sexual related offenses or violent crime will not be accepted. A smartphone is required for DoorDash.
Do You Have to Have a Car for DoorDash?
DoorDash is flexible on the type of vehicle that you use, and there are Dashers who deliver by bike, motorcycle, scooter or even by foot depending on the city.
Are DoorDash Drivers Employees?
No. DoorDash drivers are independent contractors. You will be responsible for paying your own taxes, as well as expenses like fuel and vehicle maintenance.
Does DoorDash Offer Referral Bonuses?
DoorDash drivers can refer up to 15 new drivers per year for a referral bonus. To get a DoorDash sign up bonus, new drivers need to receive a referral by an existing driver or register with a special promotion link.
How Do You Get Started Delivering for DoorDash?
After you pass the background check and meet their requirements, you will be invited by DoorDash for orientation. The DoorDash orientation is usually in person, however depending on your location, may be done online.
During this orientation, you'll receive all of the information you need to get started including how to use the DoorDash app, pick up orders and more.
Do You Have to Pay for Orders When You Drive for DoorDash?
DoorDash drivers are given a credit card to pay for customer orders and do not have to pay anything out of pocket.
How Much Do You Make When You Deliver for DoorDash?
DoorDash claims that their Dashers can make up to $25 per hour for delivering food locally, with a minimum guarantee of at least $10 per hour.
While it can vary by city and the size of the order, most DoorDash drivers earn about $5 per delivery or about $20 per hour.
Other important factors that can impact your delivery rate include whether you are the one placing the order in person or just picking it up, restaurant wait time, driving distance, and the total size and price of an order.
DoorDash offers the ability to earn extra pay for on time arrival and longer distance deliveries.
DoorDash drivers are responsible for paying their own taxes, fuel and the wear and tear on their vehicles.
Disclaimer: Actual earnings may differ and depend on factors like number of deliveries completed, time of day, location, and expenses. Hourly pay is calculated using average Dasher payouts while on a delivery (from the time you accept an order until the time you drop it off) over a 90 day period and includes compensation from peak pay, tips, and other incentives.
Do You Earn Tips With DoorDash?
Yes. DoorDash customers can leave their driver a tip either when they check out or when the order is complete. You will receive all of the tip amount.
How Do You Make More Money With DoorDash?
To maximize your DoorDash earners, consider working when the more expensive restaurants are open. Evening delivery times can offer more expensive orders from fine dining restaurants, which also means more DoorDash earning potential.
DoorDash does offer different promotions to give you the opportunity to make more money. These include Peak Pay, Challenges and Drive. Drive is large orders that you will be paid extra for.
During the busiest delivery hours in your area, you may see a Peak Pay alert show in the DoorDash app. These opportunities usually pay $1 to $4 more for each designated delivery.
Another way to earn additional DoorDash income is to complete the challenges shown in the app. These are special incentives when you complete a certain number of orders in a set time period.
Challenges can be combined with Peak Pay to increase your DoorDash income.
As a Dasher for DoorDash, you do have the ability to schedule delivery blocks known as Dashes.
Each Dash is a period of block during which DoorDash has a bigger demand, and by claiming a Dash, you'll guarantee that you will have requests during that time period.
It is important to show up during your scheduled times, or you may be prevented from claiming future Dashes.
You can also earn more money with DoorDash through the DoorDash Drive program. This is a way that drivers can receive additional delivery requests, exclusive requests and larger catering orders.
This is a great way to increase your DoorDash earnings and to even receive on-time bonuses.
To qualify for this program, there are a few additional requirements including a minimum number of completed orders, a high average star rating and completion rate. A professional dress and a large insulated bag are also required.
Delivering for Instacart
Instacart is a grocery delivery service available in over 5000+ cities across the United States and Canada.
Partnering with hundreds of different chain, grocery and other retailers, Instacart offers customers the ability to place orders online or via an app. They can then pick up their orders at the store or have them delivered.
How do You Work With Instacart?
You can work for Instacart as an In-Store Shopper and as a Full-Service Shopper.
Instacart Full-Service shoppers are independent contractors who shop for and deliver Instacart orders to customers. Offering flexible hours, this option allows you to work on your own schedule. You will need a car to complete your deliveries
Instacart In-Store Shoppers shop for customer orders in-store and package them for pick-up. Considered part-time Instacart employees, In-Store shoppers do not need a vehicle. Shifts are flexible and you can select your own hours, however there is a limit of 29 hours per week.
Can You Be Both an In-Store and Full-Service Shopper With Instacart?
No. You will need to pick one or the other. However, employees in good standing can switch after six months.
What are the Requirements to Work for Instacart?
To work for Instacart, you must be at least 18 years of age, eligible to work in the United States and able to pass a background check.
An iPhone 5 or Android 4.4 (or newer device) is required and you will be required to lift up to 50 pounds. Full-Service shoppers for Instacart are required to have a clean driving record and at least two years of driving experience.
How Do You Get Started With Instacart?
To get started driving with Instacart, download the Shopper app and provide your basic information. This will give Instacart permission to do a background check.
The app is also what you will use to get gigs, track earnings and communicate with Instacart. Required paperwork includes tax forms and a contractor agreement.
If you are an In-Store Shopper, you will need to attend an orientation as part of the onboarding process.
How Much Do You Make With Instacart?
Instacart pay varies depending on your location, the number of orders completed and the type of shopper you are.
Full-Service Shoppers with Instacart can average between $7 and $25 per hour, with the average hourly rate being $11 per hour. During busy periods, the average pay is around $20 per hour.
The average pay per order varies based on the number of items, driving distance and the effort required to shop and deliver. You will see an estimate of how much you can make per order before you accept it and also get to keep all of your tips.
Full-Service Shoppers for Instacart will usually earn more than In-Store Shoppers, however because they are independent contractors, they are responsible for paying their own taxes. As a shopper, you will also need to consider fuel and the wear and tear on your delivery vehicle. Mileage for deliveries can be written off on your taxes.
In-Store Shoppers for Instacart make a flat hourly wage which can range from $9 to $16 per hour. This amount varies depending on your work location and you will receive your rate when you register.
How Do You Earn More Money with Instacart?
Your earnings will be based on a commission from the total cost of the order. The more Instacart orders you complete, the more money you will earn. Speed can be important when earning money from Instacart and many shoppers choose shops at stores they know and that are close together to earn the most money possible with Instacart.
Is There a Minimum Earnings Guarantee from Instacart?
Yes. Instacart offers a guarantee on earning a minimum amount on orders. This amount does vary by region, but can help with the amount of money you earn on small orders or slow days.
Do You Earn Tips With Instacart?
Yes. Instacart customers can tip and you will receive 100% of the tip amount.
Do You Have to Pay for the Instacart Order as a Shopper?
No. As an Instacart shopper, you will be issued a special credit card to pay for the groceries. As a new shopper you will receive this card in about 5 to 7 business days or you may be able to pick up the card depending on your location.
Can You Make Bonuses With Instacart?
Instacart drivers can earn peak pay boosts during select times and locations. You can also receive an Instacart bonus for every five-star rating on your full service orders.
After you have completed 40 hours in a 6 month time period, you can earn referral bonuses. Instacart will give you a unique code that you can share for your family and friends to sign up.
The amount of the bonus and requirements do vary location and your position.
Can you Drive for both DoorDash and Instacart?
Yes!  For maximum income opportunities you can drive for both DoorDash and Instacart. Many drivers accept gigs from both as an easy way to maximize their income.
Do you Make More Money With DoorDash or Instacart?
If you are looking for a part-time way to make extra money, driving for DoorDash, Instacart or both can be a lucrative way to earn income in your spare time.
Many workers pick up extra cash in the evening, weekends or even during their lunch break with these delivery services and the demand for workers is greater than ever.
Since the amount of money you earn can depend on your location and the type and number of orders that you accept, it can vary on whether DoorDash or Instacart pays more money.
However, both delivery services are a great way to supplement your income and you can also drive for both at the same time to earn even more.
Recommended: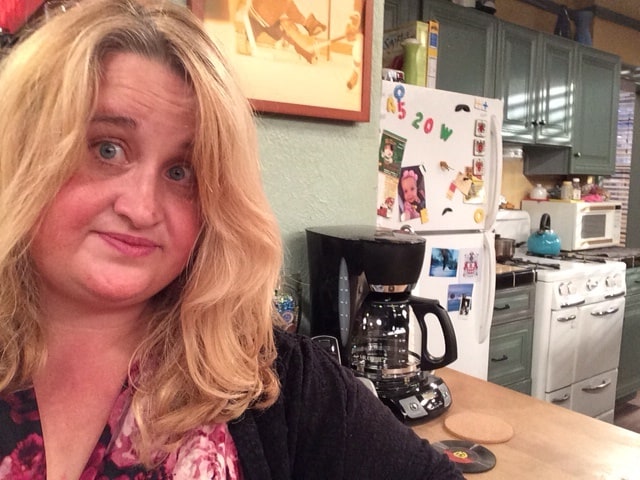 Kim Ritter is a frugal living expert, blogger and mom of two from small-town Iowa. What began as an effort to help her family save a few dollars a month has now transformed into a full-time passion to help other parents money. Visit her online at twokidsandacoupon.com and follow her on Twitter at @2kidsandacoupon for more ways your family can have fun on a budget.